Express Flowchart with Details on the Apps Functionality
Here's a structural diagram to showcase how the app works seamlessly. This will help you understand every functionality of the app.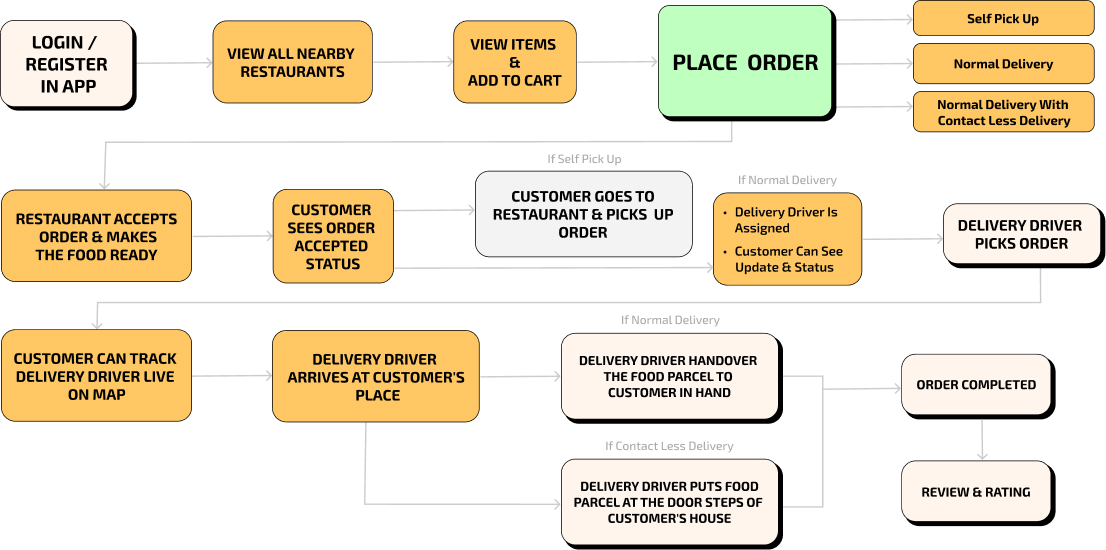 Features that Make this the Best Food Delivery App
Who Should Get White Label Food Delivery App
Single Food Store

Restaurant Aggregators: With this app, your customers can place orders with different restaurants registered in your app. Your customers will be able to see and place orders on the restaurants closest to their location.

Food Delivery Startups

Individual Restaurant Owners: If you are the owner of an individual restaurant, this can be your personal app. Your customers will be able to log in and place orders for their favorite items. You will also be able to assign a driver for the delivery of the order.

Food Chains

Restaurant Chains: If you own a chain of restaurants, this app can work exclusively for your brand. When a customer logs in, they can see the restaurant from your chain that is closest to them. They can then place orders on it and the order can be assigned to the delivery driver who is closest.

Cloud Kitchen

Our app integrates with the Cloud Kitchen feature, letting you manage your on-demand food deliveries and takeout orders seamlessly from one place.
The Total Bundle An App Full of Functionality
We are experts in building apps. We understand that no app is complete by itself. There are many components associated with an app to make it completely functional and a practical business option for you. Therefore, we have developed a whole bouquet of apps to support your business. Take a peek at everything you receive when you get the app from us.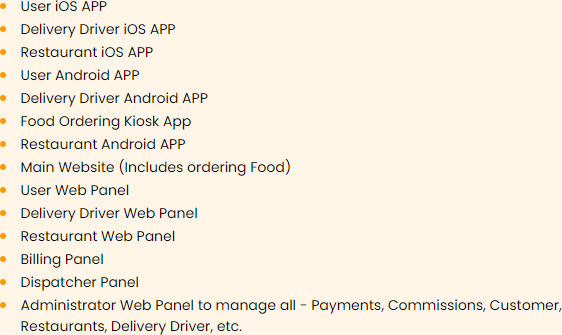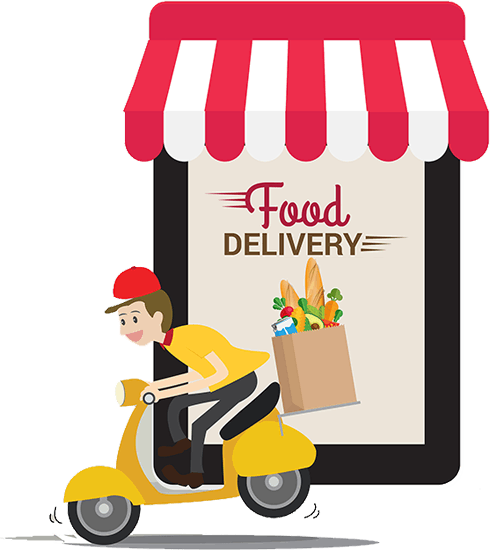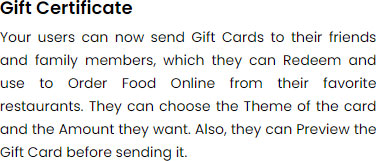 Make Every Platform Accessible For Receiving Orders & Making Money
Our App has been designed to help your customers place orders via the Website, the Phone, through the App and even by placing a call to the Restaurant.
Real-time Demo Of Food Delivery App
Get A Sneak Peek Of Our White-label Food Delivery App From The Start To The FInish
Food Delivery App with the Top Features
An Elevated Food Delivery Experience Always
Customer App
Delivery Driver Apps
Restaurant App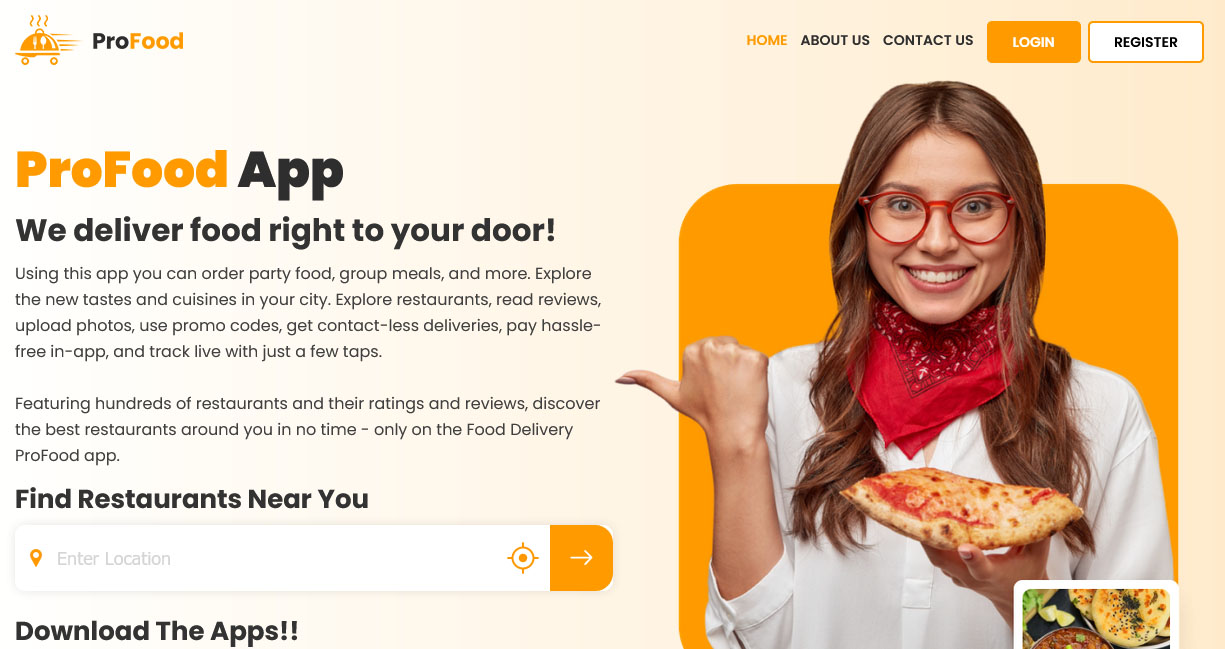 Responsive Website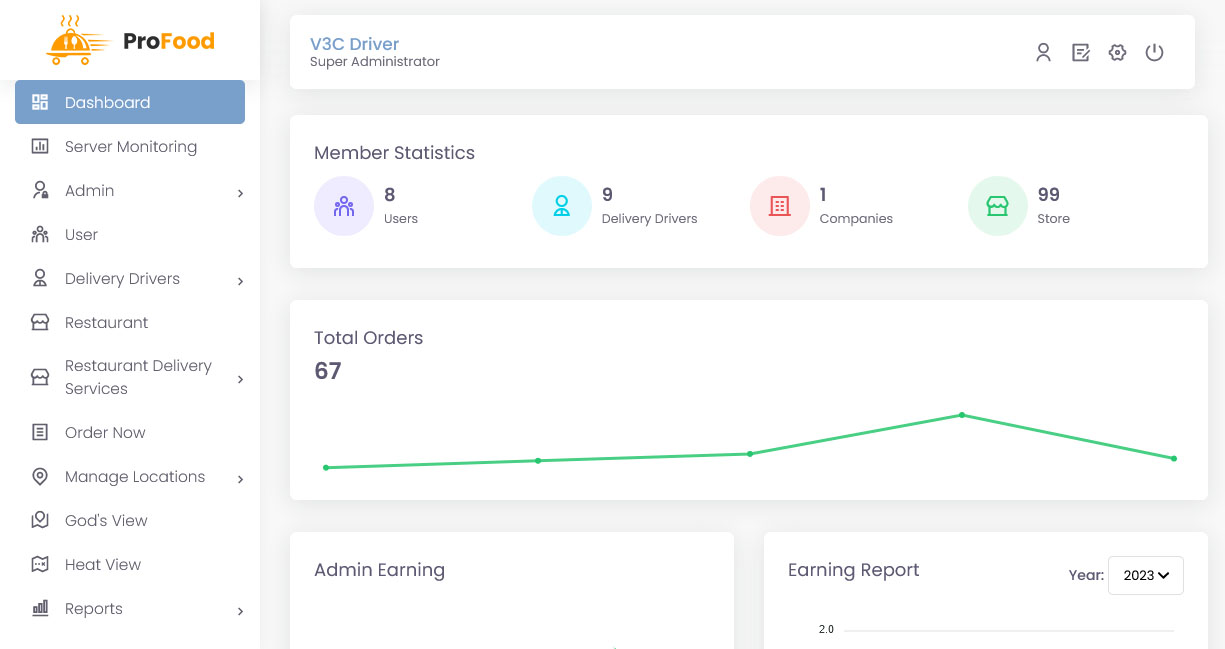 Admin Panel
Food Kiosk Application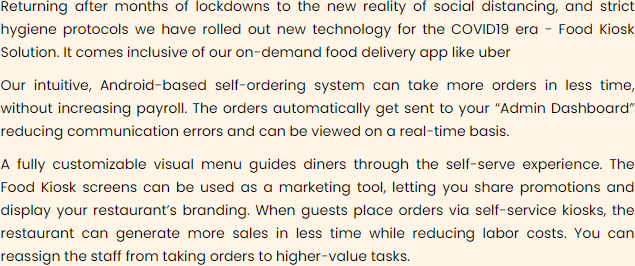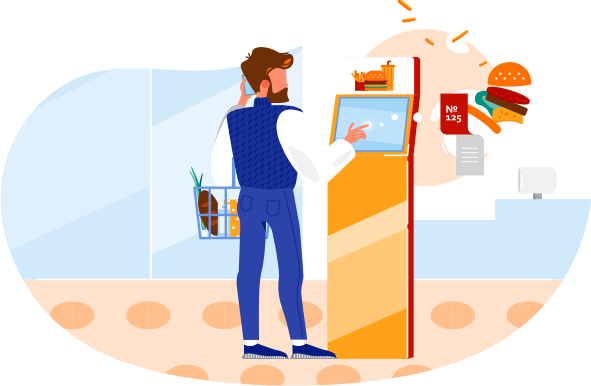 Who is The Food Delivery App a Best Business Option For?
Anyone who wants to succeed with their business regardless of the condition of the world must invest in this application. The online food delivery market is growing like never before. With more and more people finding it as an easier option to manage their meals, food delivery apps are gaining a lot of popularity.
If you want to make the most of the times, then this is the key. Get your own Food Delivery App developed by our team and launch your business in just 4 to 5 Working days. Not only is our app absolutely unique, it is also designed in a way to function as seamless and user friendly.
The app is efficient and can make calculations, reports and much more for you. The best thing about the app is that it has been specifically made in a way that means it requires little or no intervention from you. So, even if you are a non technical person, you will never have to worry about working with our On Demand Food Delivery app like the UberEats Clone.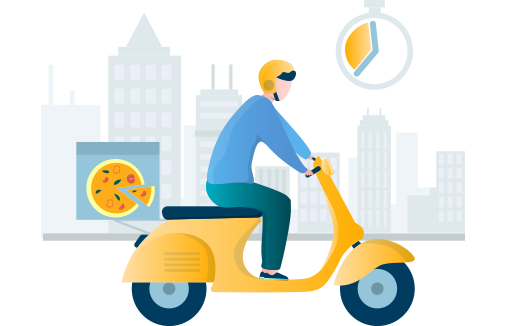 White Label Restaurant Delivery App
The only way you can establish your brand with the application is if your app is white labeled. The process of white labeling means that the on the application every sign of the developing company (that is us) will be removed and replaced with the logo and the brand name of your company.
White labeling ensures that your app is always recognized as your own brand. This is why we have made sure that the app is in ready condition and just takes about 4 to 5 working days to be white labeled with your brand name and logo.
The Best UberEats App Clone in the Market Loaded With Features
Our app is multifaceted and carefully designed to ensure that each and every aspect is planned and designed. Our technical experts used every resource from our state of the art development centre to build a unique app with multiple features and characteristics. Take a look for yourself to find out more about the application.
Customer App
Delivery Driver App
Restaurant App
Website
Admin Panel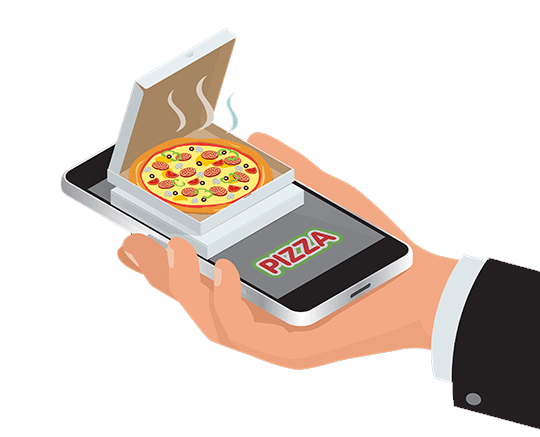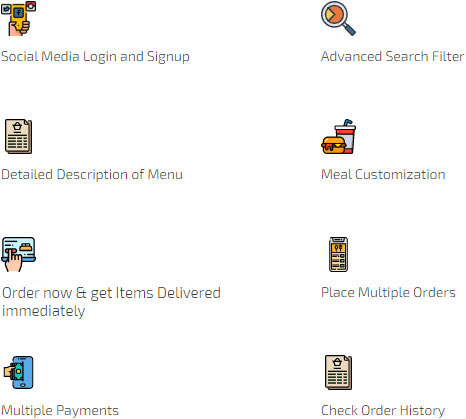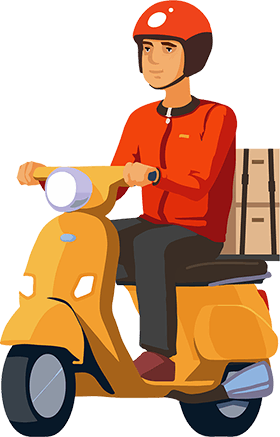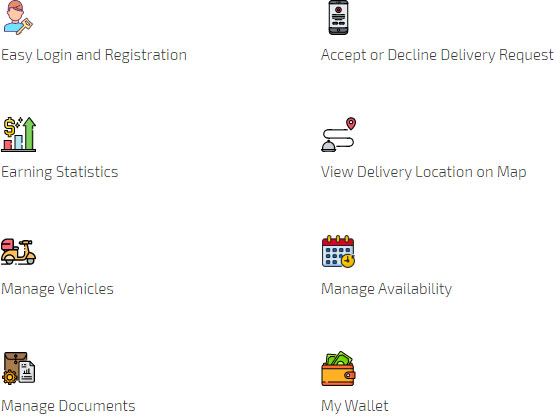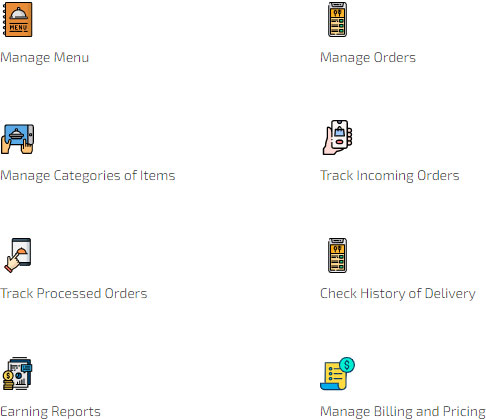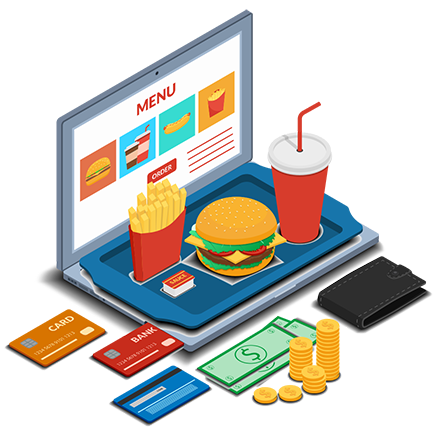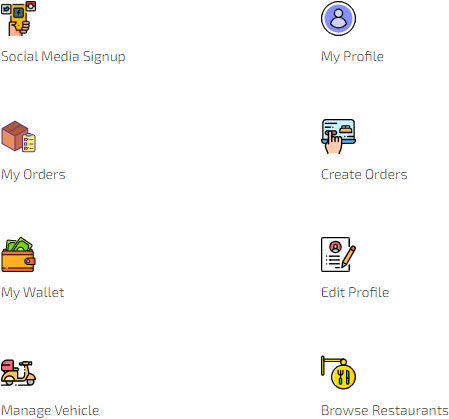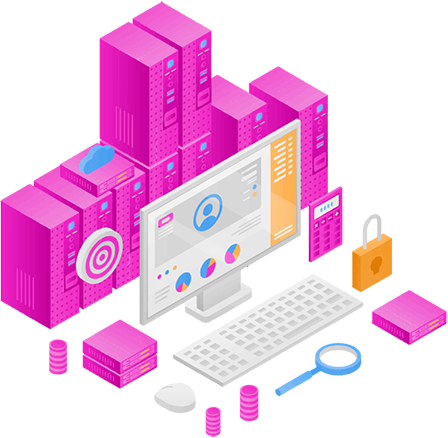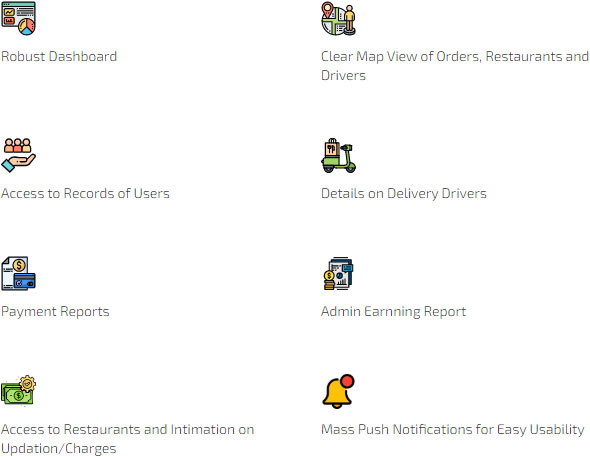 What is the price of building an app like this?
the Food Delivery App
A food delivery app is a complicated one. There are too many components and systems involved in it. As one component comes together, you can only then estimate the time it takes to build it. To build a fully functional app with all the parts necessary to make it a viable business option, it may take a couple of years.
As time continues to roll, so does your money. You will have to accept the fact that you will never really have a conclusive idea of how much your app will cost till you have finally made and launched the app. The best way to work with an app is to purchase a pre built app like ours.
Our app is in completely ready condition. The app is made in a way that it can be launched in just 4 to 5 working days. But, to make it easy for you, we have built different packages for you. Each package comes with its own bundles of features. You can select the package that suits you best, so you don't have to pay for anything that you don't want to.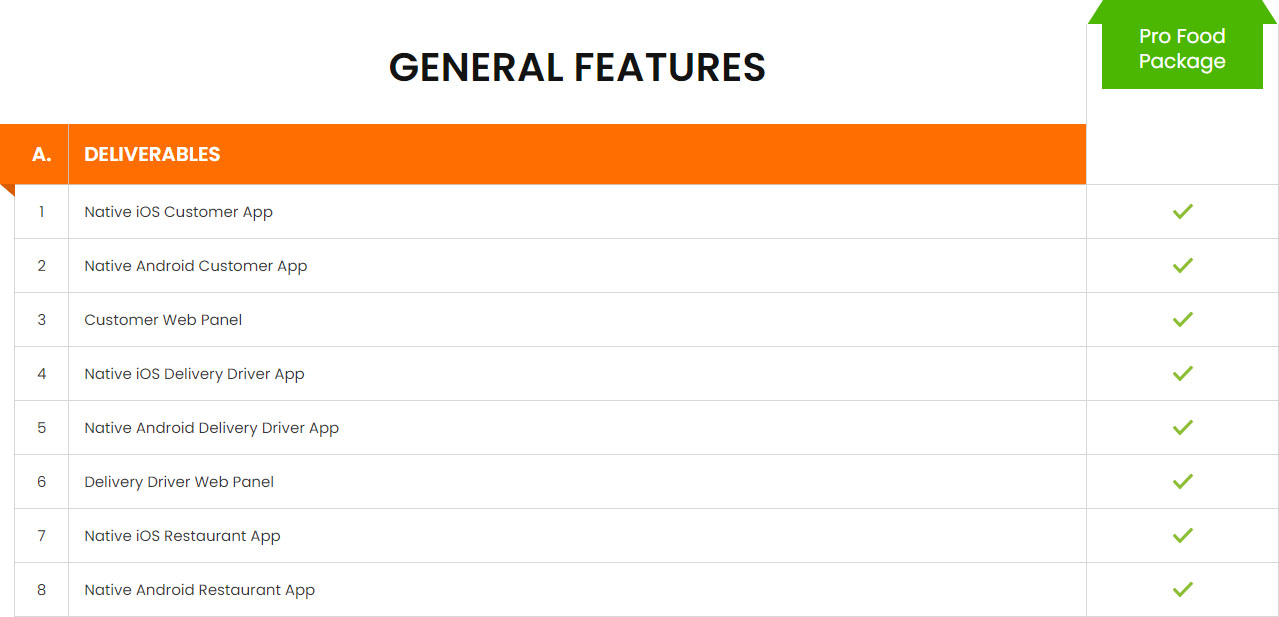 View Features & Pricing
Buy Now
Testimonials
Why wonder about the reliability of a company, when you can actually hear it from the horse's mouth. Here are some testimonials from our clients, where they share details about their experience in working with us, the quality of our apps and much more. Take a look for yourself!
Other Delivery Apps
We love our clients and want to spoil you with multiple options. This is why, Food Delivery app is not just the only app in our kitty. We have a host of other on demand delivery apps that you can choose from. These apps can be your best opportunity to make sure that you make more money with every single order!
Integrate Your Own Local Language and Currency in the App
To make sure that the app works in the best possible way, you have to ensure that the app functions on your local language and uses local currency. That is the only way it will gain popularity amongst the people.
To have your app in your own local language and currency, you just have to speak to us. We will be able to integrate any number of currencies and languages for you in your application. So, go ahead and give us a tinkle!
| Country | Currency | Language |
| --- | --- | --- |
| US | Dollar | Spanish, French, Hawaiian |
| Brazil | Brazilian real | Portuguese |
| Saudi Arabia | Riyal | Arabic |
| Malaysia | Ringgit | Malay |
| Indonesia | Indonesian rupiah | Indonesian |
| Nigeria | Nigerian naira | Hausa, Yoruba, Igbo |
| Mexico | Mexican peso | Spanish |
| UK | Pound sterling | English |
| Vietnam | Vietnamese dong | Vietnamese |
| France | Euro, CFP franc | French |
| South Africa | Rand | Afrikaans, Sotho, English, Xhosa, Zulu |
| Germany | Euro | German |
| UAE | United Arab Emirates dirham | Arabic |
| Canada | Canadian dollar | French, English |
| Australia | Australian dollar | English |
Technology Stack
Our only aim throughout our developmental career has been to make sure that more and more people who purchase our apps find success. This is why; we only use the best technology stack. Using a state of the art development centre and an expert team of developers, we've built the best app for you. Take a look at the technology that we use for your application.