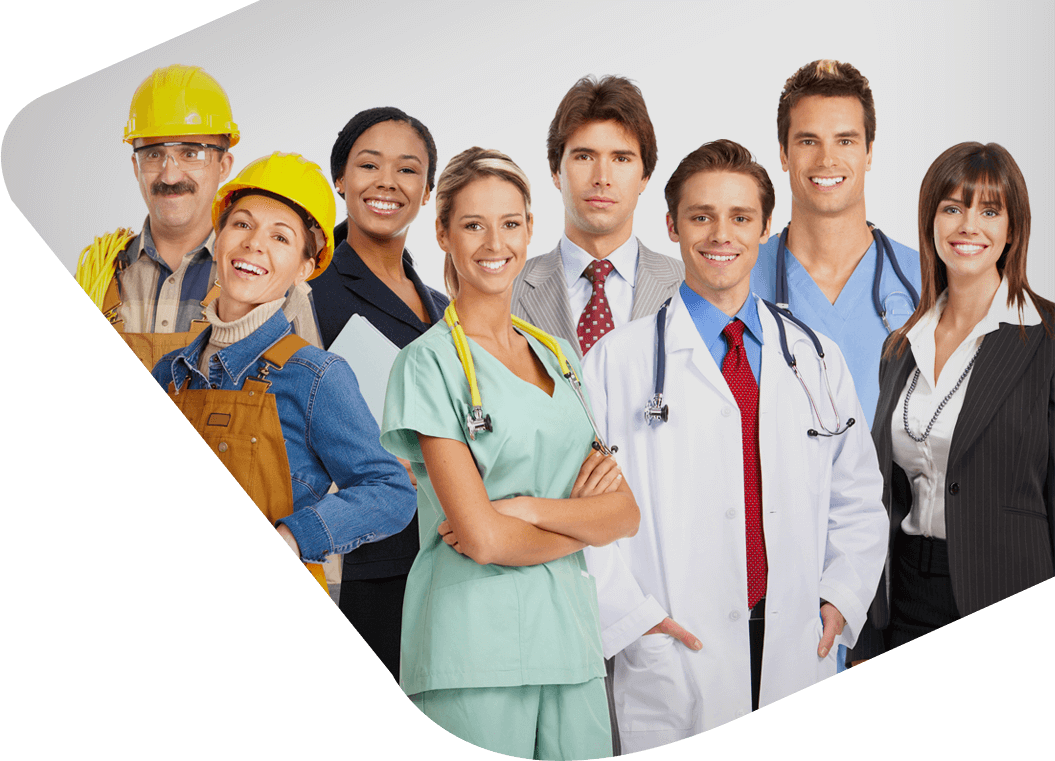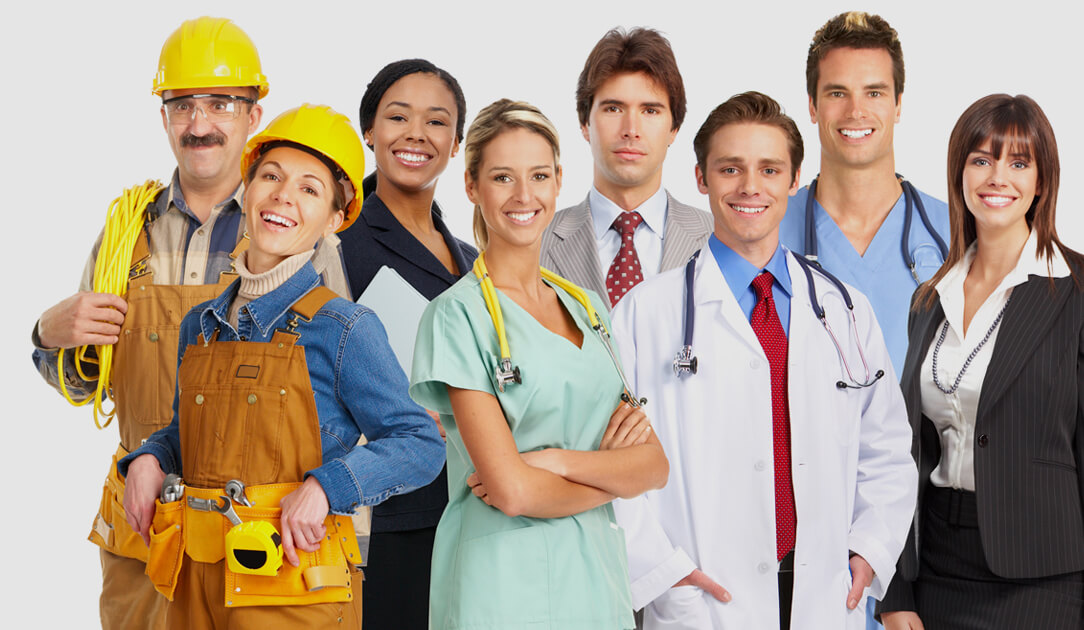 GoJek CloneOne App - All Services!
The biggest multi service providing app is knocking at your door! It is now your turn to be proud appreneurs with the GoJek clone which features taxi rides, delivery services and a host of over 52 other services including on demand tutors, dog walkers, plumbers etc. all packed in one.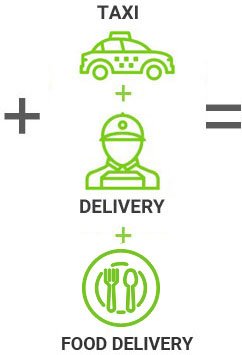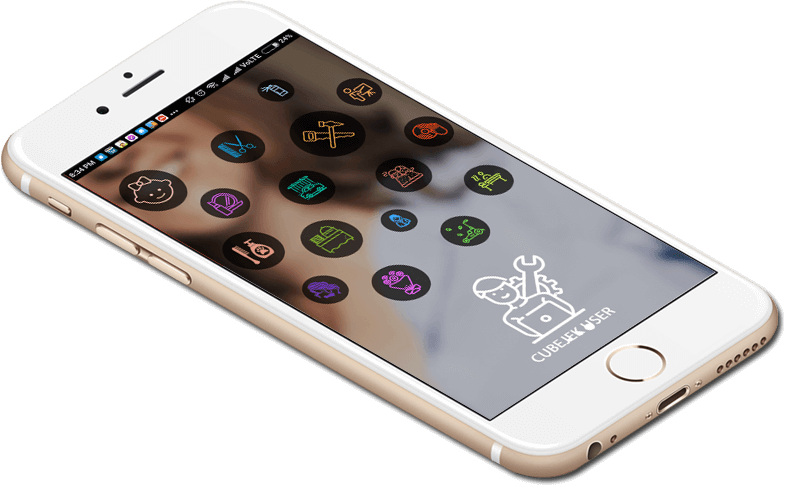 * Our Go-jek clone has limited services and is not 100% clone of Go-jek.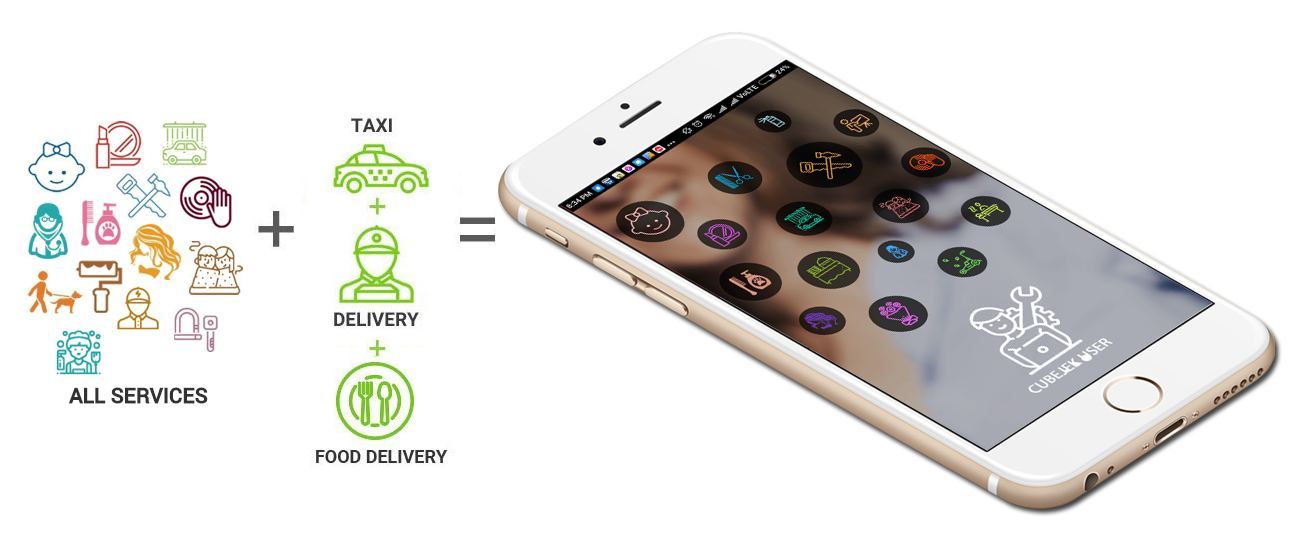 Vast Array of services just with a single app
This app like Gojek opens the window to instantly access service providers offering more than 52 different kinds of services. Take a look at everything that you can empower your customers with just with the help of this single unique multi service provider app!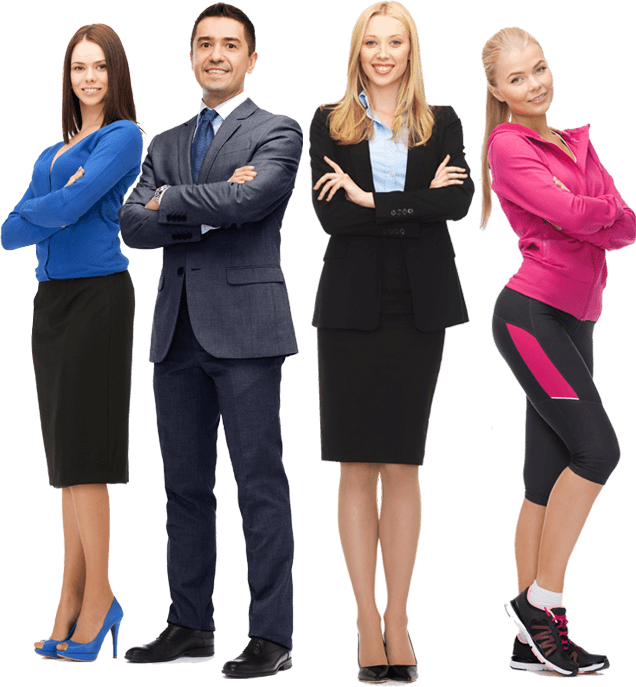 What we offer
This is a comprehensive solution that is meant to be an answer to all your problems! We don't just offer you a single app, but bring to you:
User iOS App
User Android App
Administrator Panel
User Web Panel App
Service Provider Web Panel
Service Provider iOS App (this app will have all kind of services - Taxi Driver, Delivery Driver, Plumber, Electrician, Doctor, Car Wash, Towing, Massage Therapist, Veterinary etc)
Service Provider Android App (this app will have all kind of services - Taxi Driver, Delivery Driver, Plumber, Electrician, Doctor, Car Wash, Towing, Massage Therapist, home painting service, lawn mowing etc)
FREE enhanced features with this app!
Free Features
We offer you the licensed source code of this robust app to ensure that you can continue to customize it as per your requirement by yourself as many times as you want.

We are confident of our product's quality. Therefore we offer 365 days of FREE bug support on your app.

We will white label the app with your logo and brand and launch it under your brand name on the Google Play store as well as iOS app store.

We follow the non disclosure policy very strictly and ensure that we never ever reveal your identity or your brand name. We don't mention the name of the apps anywhere on our portfolio as well.

We understand upgradation is integral for an app's success. This is why whenever you request it within the first year; we will send you a zip the latest code and shoot it across to you.

We don't just hand over an app to you, but offer you a fully functional website as well.

Our apps are seamlessly designed to be responsive across every medium accessed be it smart phone, tablet, PC or laptop.

The app enables customers to choose from three payment methods, cash, card and in app wallet.
The app enables the admin to set geo fences to create restrictions on servable areas. These geo fences are customizable and modifiable as per your convenience.

The app is integrated with Google maps for flawless and accurate navigation to track service providers approach.

You can now send in app notifications to the customers about various offers and other events that might occur in the process of booking the service.

You can attract more users to the app by offering your clients referral rewards with the help of promo codes in the form of discounts.

Gojek Clone App LiveDemo Video
Why pay a penny without real trial? Take a FREE on road trial of this amazing app and decide for yourself! Just click here and be on your way in to the most robust all inclusive service provider application!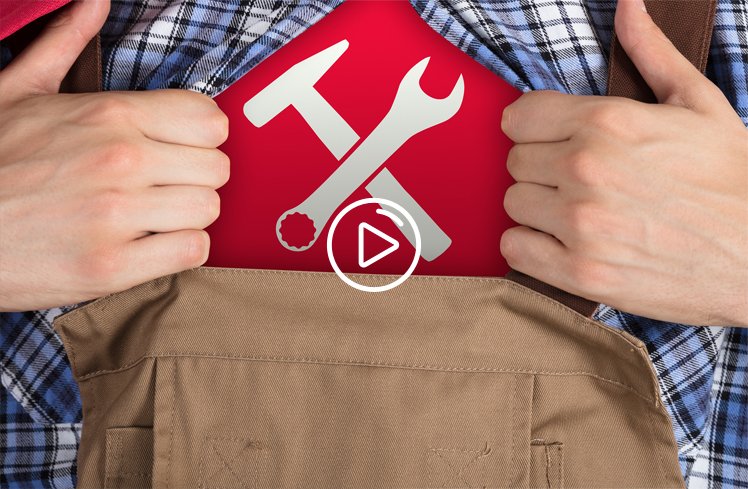 Own the most powerful service provider app of all times!
One bullet for all problems! This unique and independent solution will declutter your customer's smart phone by giving every service through one app!
No effort, just profits
You really don't have to do anything at all to earn money! With so many services being offered through our GoJek clone, all you need to do is invest once. As more and more clients start using your app you will continue to make money on it.
A single investment gets you the ability to launch so many businesses. You can own just about every kind of service that needs to be addressed. With a little investment in getting this app, you pave way for making very high returns. Whether your customers book the services of an electrician, or a tutor, you will always get paid.
Take this opportunity before it is too late! Beat your competition with the help of this vast and all inclusive app NOW!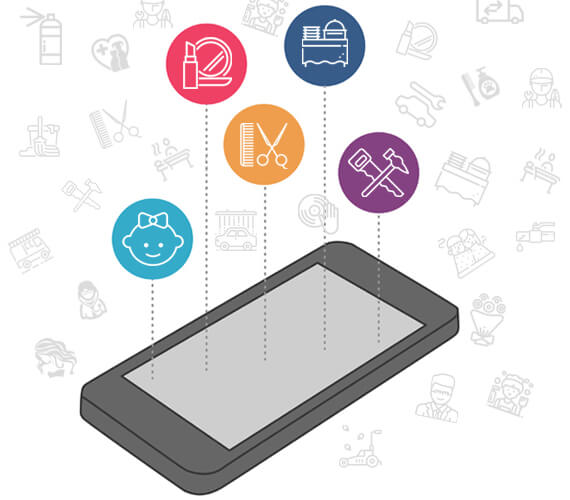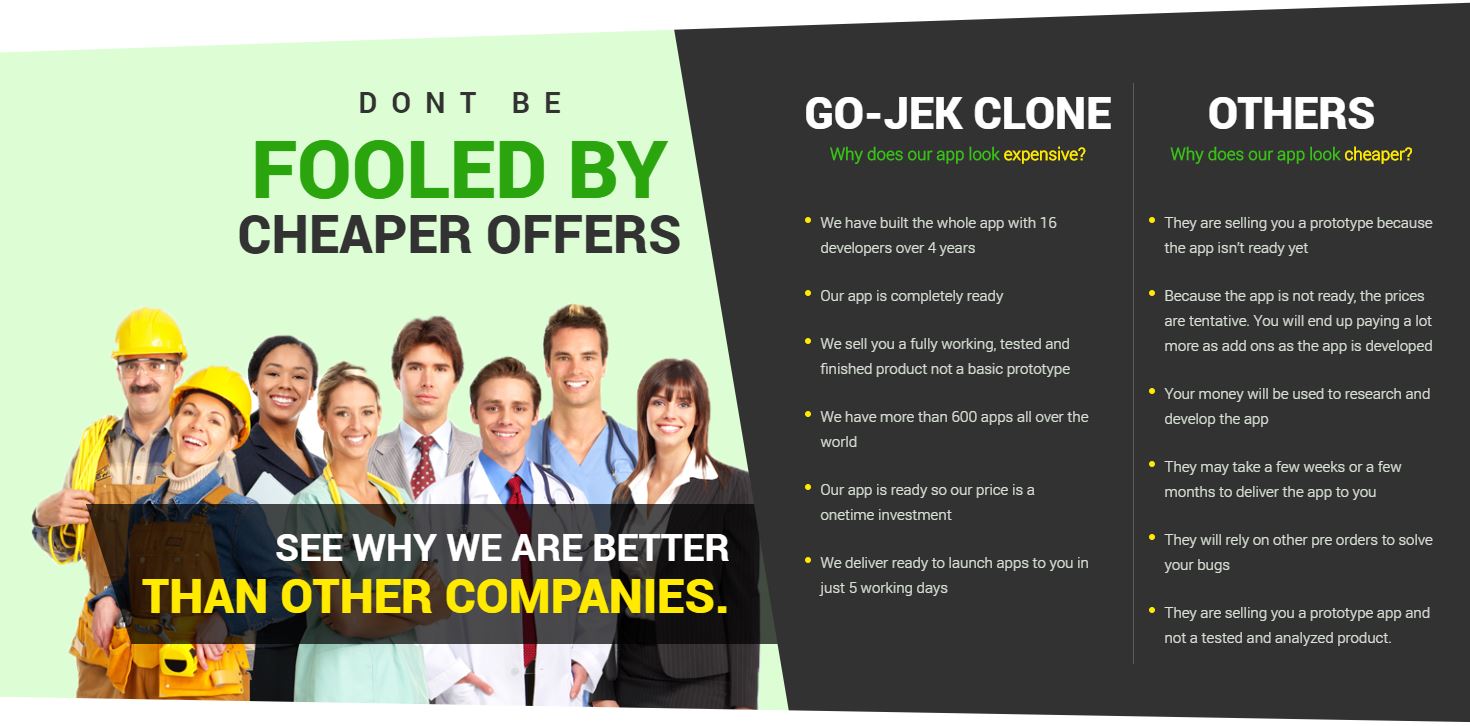 How to start your own business like GoJek?
Get all the information about how to start your own on demand app for all services right here in this video. Understand how GoJek clone works and how to pick the perfect GoJek clone app to set up a successful business.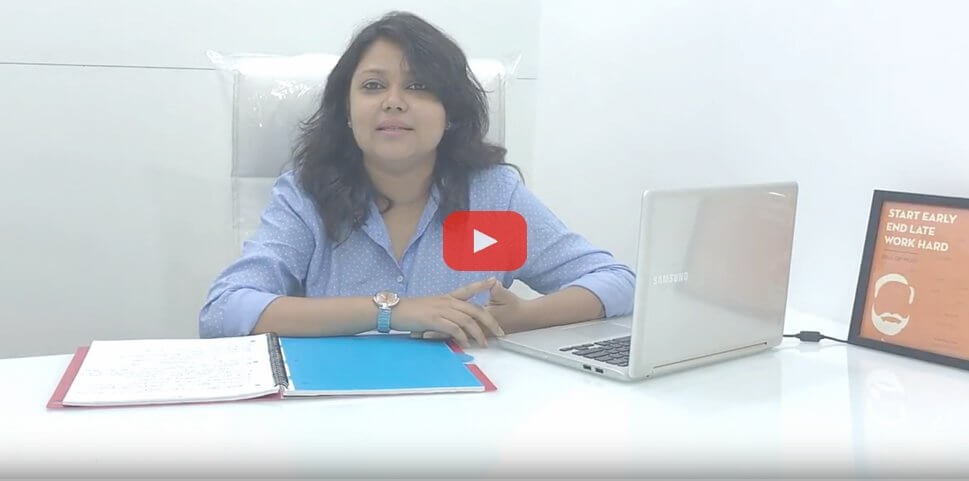 How this App works
Taxi, Delivery or Other services
Since this app caters to a whole range of different kinds of service providers, it is imperative that it has to be easy to understand and be absolutely uncomplicated for usage by any kind of service provider. The interface of this app has been specifically designed to ensure that it can be used by the customer as well as the service provider.
The user must log in and register on the app by creating a simple profile by entering their basic details like name, address etc. the user must also fill in the credit card details for seamless payment transactions at the end of the services received. Likewise the service provider must also create a profile by adding their basic details and service offered. Once that is done, they must mark themselves available on the app.
A. Ride
B. Delivery
C. Other Services
The user can make their selection based on their requirement. If a ride is booked, it is booked normally as a taxi. For any delivery points of pickup and drop are mentioned along with the size of the item and the booking is made. For any service provider pertaining category is selected and a booking is made.
When the services have been rendered and received, the payment is automatically deducted from the card which is selected in the beginning by the user. The user gets payment options such as Cash, credit card or in app wallet.
This is a simple, effective and efficient Gojek clone application, specifically designed to help you make a lot of money without putting in any effort! The time is right and the chance is NOW!
Choose your Language and Currency
Launch your own GoJek like business anywhere in the world by adding the language and currency of your Choice!
| Country | Language | Currency |
| --- | --- | --- |
| Indonesia | Indonesian | Indonesian rupiah |
| Malaysia | Malay, Malaysian | Malaysian ringgit |
| Vietnam | Vietnamese | Vietnamese dong |
| Thailand | Thai | Thai baht |
| Phillippines | English, Filipino | Philippine peso |
| Singapore | Malay, Mandarin | Singapore Dollar |
| Brazil | Portuguese | Brazilian real |
| Nigeria | English, Hausa, Igbo, Yoruba etcc | Nigerian naira |
| United States | American English | United States Dollar, Ithaca Hours |
| Saudi Arabia | Arabic | Saudi riyal |