Choose Our Superior
BlaBlaCar Clone

Carpool App!

With a plethora of features, our BlaBlaCar Clone app empowers you to swiftly and effortlessly launch your carpooling business. From seamless white labeling to flawless UI/UX, we provide you with all the essential tools for achieving success.
Our
BlaBlaCar Clone Script

Package Include

Our BlaBlacar Clone Script Is A Ready To Use Solution That Enables You To Kickstart Your Carpooling Venture in 7 Days.
So, the script includes everything you need to get started, including:
User apps for iOS and Android
Rider's web panel
A fully functional website
Admin panels to manage all Apps, & Web Systems, Payments, Rates, Reports, Settings, etc.
A billing administrator panel
A dispatcher panel
Our script performs flawlessly on all popular mobile devices and browsers because it is developed on a high-end cross-platform framework. We also provide a wide range of customising choices. In this manner, you can modify the script to suit your own requirements.
Blablacar Clone
Application Flow
Kickstart Your Ridesharing
Business in 7 Days
Start your Carpooling App, similar to BlaBlaCar, in no time and without spending a fortune with our Pro Package. This package not only comes with Advanced Features and Pre-tested Website Scripts but also includes an Admin Panel and a Fully Functional Website. Explore further details right here.

Get BlaBlaCar Like
App Demo

Today!

Are you looking to start your own Ride-sharing App Business? If so, then you need to check out our BlaBlaCar Clone App Demo. This demo gives you a real-world experience of our powerful ride-sharing booking app. Our BlaBlaCar clone app is available on both iOS and Android platforms. So, you can check out the demo on whichever platform you prefer.

We hope you enjoy the demo! If you have any questions, Don't hesitate to Contact Us.
Custom Solutions for Your
Carpooling App:

Launch Like BlaBlaCar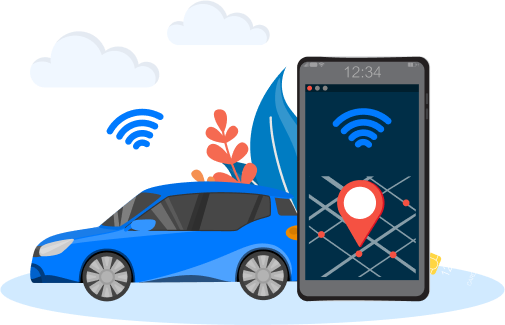 With the increasing global demand for Ride-sharing Apps, now is the perfect time to launch your own Peer-to-Peer Carpool business.
Get ready to hit the market with our market-ready solution: the BlaBlaCar Clone App! Our Ride-sharing App is seamlessly integrated with the best Carpooling App Development Services.
Our app acts as the ideal conduit between Riders and Drivers, enabling stress-free commuting with a clear conscience. Our white-labelled solutions are fully customizable, allowing you to give your company a distinctive corporate identity whether you prefer iOS, Android, or Web platforms.
Join the Green Movement and hop on the carpooling trend! By launching Rideshare App, your Customers will not only save money but also beat traffic congestion & reduce Air pollution.
Don't miss out on this opportunity to make a positive impact while building your Carpooling Empire.
Get your hands on our BlaBlaCar Clone App and become a driving force in the world of sustainable transportation.
Benefits of Our
Blablacar Clone Script
Our BlaBlaCar Clone app offers a wealth of benefits, from easy white-labeling to perfect UI/UX. See what additional perks you can enjoy with our well-designed and developed clone app.
Quick Launch

We deliver top-quality source code that guarantees flawless operations for your business. With our fast launch process, you can have your Carpooling App up and running in just one week, allowing you to go live and start making profits in no time.

Customize according to your needs

Create a BlaBla Car-like app that is personalized to your preferences. Choose the optimal customizations for your app and clients based on the unique demands of your business.

Multi-platform solutions

When you purchase our clone app package, you not only receive a user-friendly website but also an efficient admin panel, a reliable dispatch system, and fully functional iOS and Android apps.

After-Sale Services

We recognise how crucial it is to continue to support your ride-sharing company. Therefore, we provide post-sales services to make sure that your programme keeps functioning properly long after it has been released.

Upkeep and upgrades

With our planned app maintenance services and yearly upgrades, you can keep your carpooling operations smooth and hassle-free.

A successful business model

It provides you the opportunity to select the most lucrative model for your company when it comes to making money from your ride-sharing app. We design the software to maximize your earning possibilities, whether that be through adverts, premium features, or subscription plans.
Frequently Asked
Questions
Looking for more information? Our FAQ is a great place to start. If you still have questions, contact us and we'll be happy to help.
You will receive full ownership of the licensed-based source code for our BlaBlaCar Clone App.
Hear What
Our Clients

Love About Our Carpooling Script