Free Features Of Our ProBeautician
That Other Charge for
Live Tracking

Let your users track the Beautician's location in real-time and know the estimated arrival time at the service address.

Multiple Payment

Let users choose their preferred payment method, including credit card, in-app wallet, or cash.

Instant Notifications

The system sends illustrative notifications to keep your users up to date on the current status of their booked Beauty service.

Lifetime Licensed Source Code

We offer you the lifetime licensed source code for one domain. You can use the code to modify your Beauty App anytime.

App Submission

The experts will submit your app to the iOS and Android App Stores after getting your approval.

Multiple Languages and Currencies

With the purchase of our package, you get the flexibility to integrate up to 25 Languages and Currencies of your choice into the app.
Beauty On Demand App For Everyone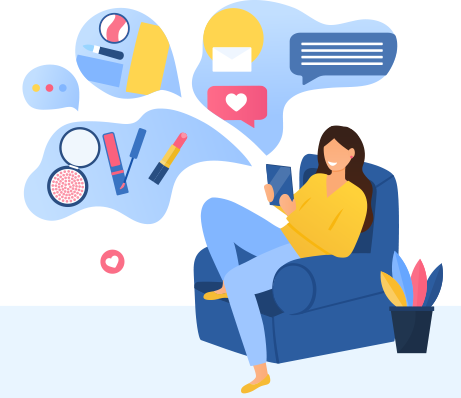 This is not just an app. It is a revolution. A sweet way of using technology to help people enhance their own beauty and pamper themselves is now in the hands of people through their smart phones. The app is completely responsive and is meant to run seamlessly across every platform be it Android or iOS.
This is the new way of doing business. We don't just bring you a single app but bundle everything needed for you to run a successful business without knowing anything pertaining to the industry.

Have a Look at How We Build Trust with this Video
Take a look at this video to meet Adam who wants his very own beauty on demand app, Glam Clone and watch his experience of meeting us and taking our support in building a successful beautician on demand service industry for him along with the professionalism that helped us build a sense of confidence in the heart of Adam.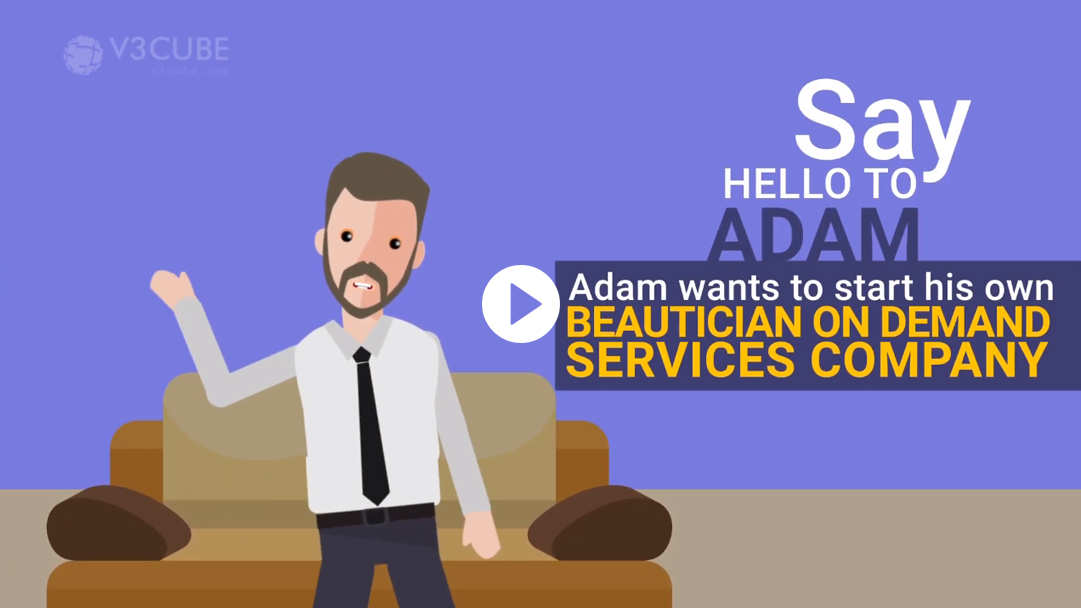 Step into the Seamless Functioning of the Beautician On Demand App to See How It Works
Have a glance at the step by step flow of the beautician on demand app on the screens of the app of the user as well as the beautician.
App of the User
Login or Signup using Facebook Google or with basic details like name, mobile number, email address, etc.
Get a list of all the beauty services like hairstyle, makeup, massage, facial, etc and select from either one or a multiple range of services.
Get a list of all the beauticians and filter your search based on nearby, ratings or featured.
Choose the beautician of your choice and take a glance at the services they render along with the gallery and review.
Choose the service/services you desire from the beautician.
Get the booking details and select the mode of payment, i.e., cash or card and the location where you need the service, i.e., location of user or location of beautician along with the date when you need the beautician service, i.e., same day or later date.
User will get notified on each step like "Booking Confirmed", 'Beautician Arrived', 'Beauty Service Started', 'Beauty Service Completed'.
Get a detailed invoice summary and make Payment.
Leave a Review and Rate Services.
App of Beautician
Login or Signup using Facebook Google or with your basic details like name, mobile number, email address, etc.
Enter the application and set your availability as online.
Receive the request for service
Accept or reject the request
On accepting, get details of beauty service along with the profile of user and location where beauty service needs to be offered.
Notify the user with 'Booking Confirmed' on accepting
Notify the user with 'Beautician Arrived' on arrival
Notify the user with 'Service Started' on starting of service
Take a photo during the service
Notify the user with 'Beauty Service Completed' on completion
Take a photo after the completion
Get an invoice summary containing the details of the beautician service along with the mode of payment chosen by user
Collect payment
Leave a Review and Rate the User
Can Be Your Fastest Route To Success
Beauty And Wellness
Can Be Your Quick Ladder To Success
We love technology and bringing unique solutions to the fore. This is the biggest reason why our team with years of technology has been able to come up with such a unique and futuristic app to address the requirements of the beauty and wellness industry.
We've done our research and developed an on demand beauty service app that has the top features and is sure to hold your hand straight through to success. This app is so user friendly that your customers will love it, your Service Providers will find it easy and you will enjoy money in the bank every time a booking is made through the app.
Beauty On Demand App Goglam Clone not only runs your Salon business effectively but ensures that your customers' safety is along with it.
Our Newly Featured app is designed to skyrocket your business with ease!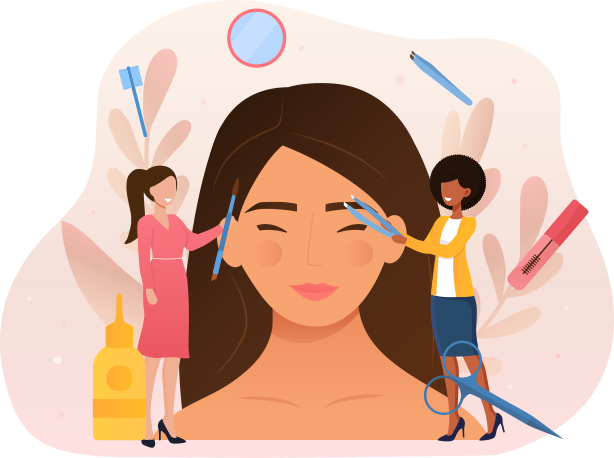 4 Steps to Your Product
Our job is giving you the solution and yours is to reap the benefits. These are the 4 quick steps that are going to help you be on your way to success.
Demo

We urge you to take the demo of the app like Go-Jek before anything else. Take a live on road test so that you can get the actual look and feel of what the app is going to be like. This demo is available for you for an unlimited duration of time so you can try it thoroughly.

Place the order

Once you are satisfied, you can place the order with us and give us your logo and brand name. We will white label the app with your logo so that we can launch it under your brand name. This process will be done in just 7 to 9 business days!

Tell Us What You Want

Based on the Demo, discuss with us your requirements and we will get back to you with whatever best we can do to help you with your custom solutions. Feel free to throw around your ideas and brainstorm with us. After all, we are here for you!

Succeed

We will launch the beauty on demand app on the Google Play store as well as the iTunes app store. You will be on your way to success! The app is so well made that you can start minting money right from day one. No more wait and watch! The future is now!
core features
Use On any Platform

Our app is completely responsive and can be used on iOS as well as Android. The app works flawlessly over smartphones, tablets, PCs and Laptops.

Beautiful Design

First impressions matter. This is why our best in class designers have developed this app to be a real beauty. It is a beauty and wellness app that inspires.

Complete Customization

We understand your unique requirements and customize the beauty on demand app as per your preference. After all, it is your app; it should be just as you like it.

Competitive Pricing

We offer the best rates in the market. Our end to end solution caters to any requirement that this business may present to you at the most cost effective pricing.

Scalable App

We anticipate your success and willingness to expand the range of services or locations. This is why this app is completely scalable and can be updates as per your preference.

Fully Automated

Beauty on demand app works on its own, without any manual intervention required. Once you buy the app, you can forget about it. It will continue generating money for you.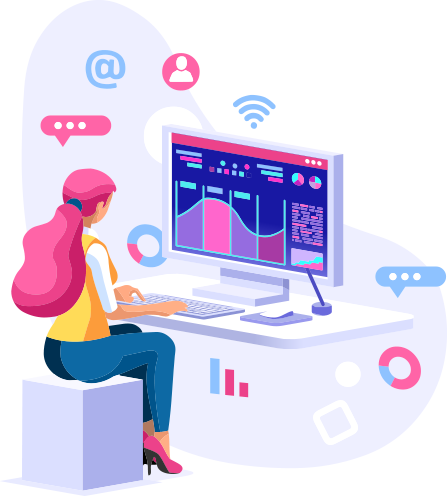 On Demand Beauty Service App Package
It's not just one app. The focus of our team is to ensure that you have a whole and complete business solution. We don't just want to sell you an app like Gojek but want to set you on your way to permanent success so that nothing can stop you.
We offer you a User app, a Service Provider app and an Admin web panel. The User app facilitates the customers to manage their profiles, make payments, etc. The Service Provider panel enables your beauticians to register, offer services, manage their profiles etc. The admin panel is where you manage the entire app from. You can manage and update categories and subcategories, decide the amount of commission and other important activities from here.
If you thought that was it, we don't stop here. We give you web presence in the form of a website for the app. After all, your on demand beauty service app has to be available for anyone who wants to search it! All this and a lot of freebies that come along with our package are sure to make you the most successful Beauty Services Provider on an App Based Platform.
View Graphical Flow
You Can Be Everywhere!
This on demand beauty service app is specifically created in a fashion that ensures that you don't have to restrict your presence just to one location. We can add languages and currencies as per your preference so that you can tap the potential of the beauty industry of the whole world.
The app is integrated with the Standard English language and USD for currency but we can integrate any of the languages of the world like Spanish, German, Persian, Arabic (R to L), French, etc. or currencies like GBP, Francs, Euro etc. for the app.
It's action time! Take the demo and start your own business NOW!
get my price
Our Elite Clients Are Sharing Their Success Stories